Cooking in a van can be complicated some times, all your utensils really have to be smart and not take to up much space as well as be easy to clean of when you are finished. So all these gadgets we have listed below we love personally and they are easy to clean of. For us being able to do the dishes easily ended up being a priority.
Here are a few of our favorite kitchen gadgets for our van conversion kitchen.
If you decided to use our links below we will get a small commission of your purchase at no extra cost for you. It means the world to use if you wanted to use this link. It keeps us on the road.
---
Stackable Cookware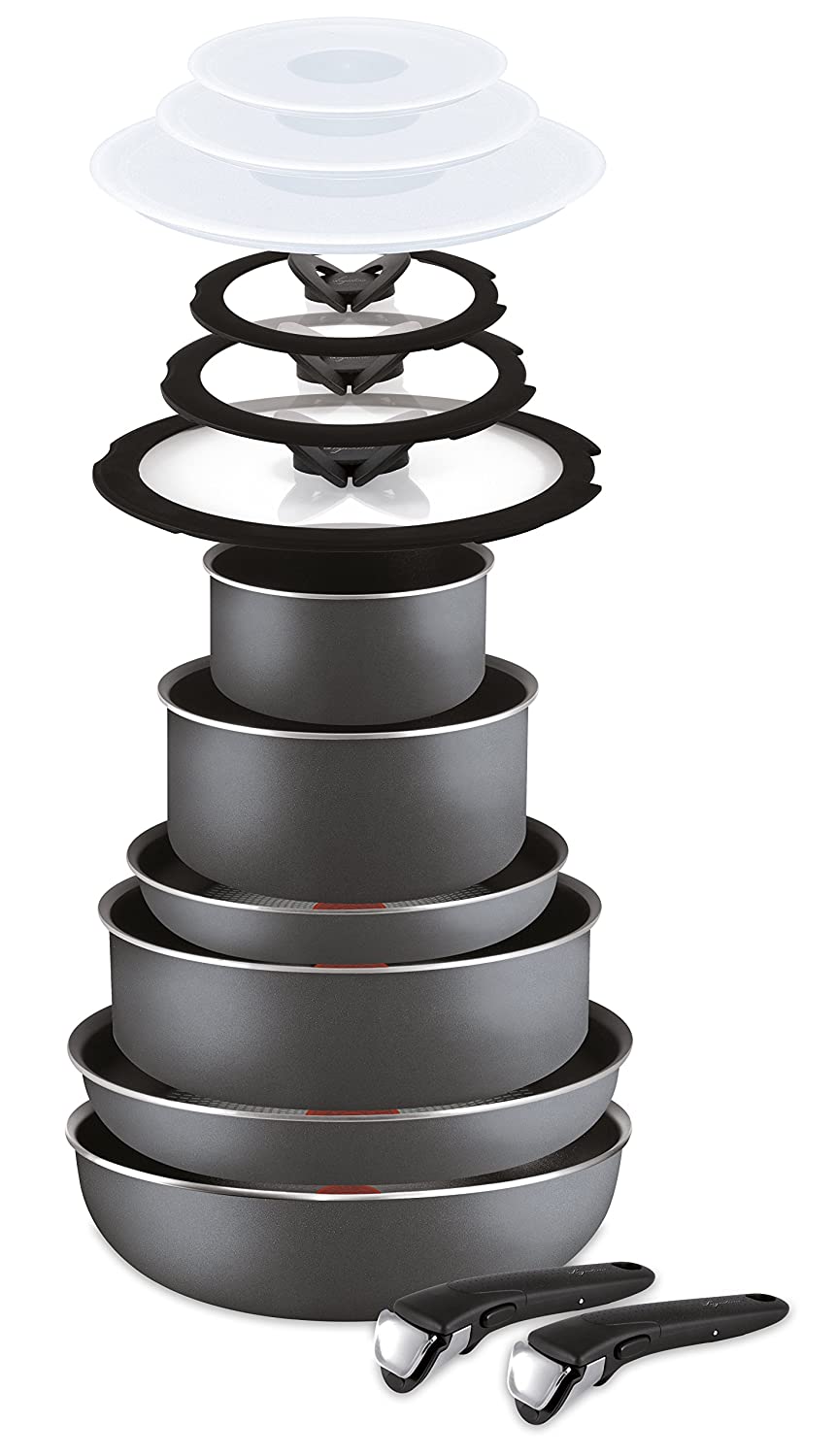 When we moved in to our van we had normal pots and pans. After justa month we realized it so hard to stack, they were constantly in the way, didn't fit our owen and it was completely impossible to do the dishes because our food got stuck in the pan.
We started searching high and low for a better option and in comes stackable non stick cook ware. Seriously a game changer. They are so easy to wipe of, they stack perfectly, and they barely take up any space at all. For us who loves to cook we just couldn't compromise when it came to pots and pans. We needed a wok, a frying pan, different sizes of pots and pans for us to really be able to enjoy our cooking and get the most out of it.
We are incredible happy with ours and we highly recommend them. We did solid research and landed on these ones after searching high and low for the perfect ones. They have lids that barely take up any space, they have plastic lids so we can easily pop the whole pot in the fridge over night and the handle is so easy to just switch between the pans when cooking.
All of it only weight 4,6 kg and that's a catch!

Lagostina Essential Cookware Set, Aluminium, Black, 14-Piece
---
Magnetic Spice jars
We have these on our fridge and since we got them we have cleared so much space in our drawers. They are easy to use as well as you can easily see your spices and know how much you have at home. Its just a super smart little gadget to have in your RV/Van kitchen. The magnet on the back have no problem attaching to the fridge and it's strong enough to stay there when they are fully loaded with spices inside them.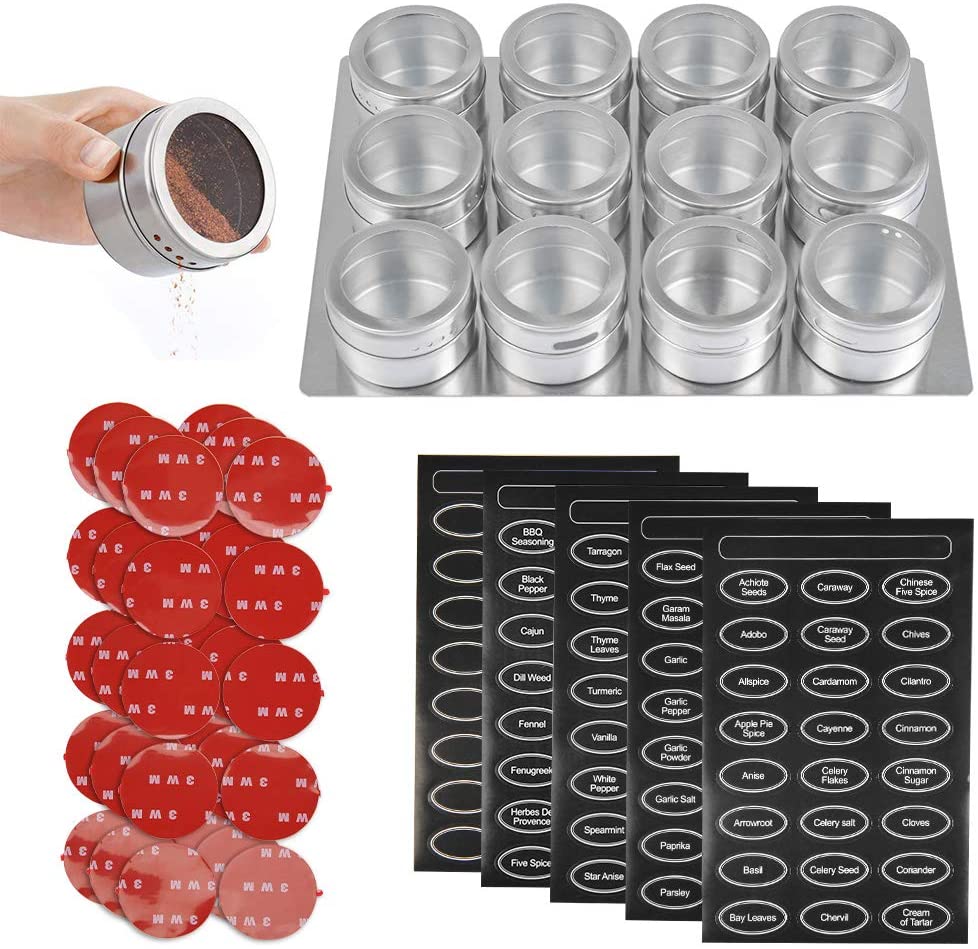 ---
Collapsible colander
This is a game changer, I think every kitchen needs a collapsible colander. It's just one of those bulky items you never really find a place for in your kitchen. This Colander has 3 uses, its can be a colander, it's a trivet and we can also use it as a steamer for our wok. Damn that's brilliant stuff right there.
We love stuff that we can use for more stuff than 1 thing. It means we don't have to get a steamer or a trivet. Just perfect. The design with open handles is something we really enjoyed and it looks more stylish than the colorful collapsible colanders out there. We highly recommend it.
Amazon USA (not the exact same one as the picture above)
---
Plastic Glasses
We have these as both our water glasses and our wine glasses. Here we go again, stuff that we can use for 2 things are just the best. Plastic glasses is something we never wanted in our Van but we realized that we needed to rethink that decision pretty fast. Real glasses will break and having to deal with broken glass in such a small space is just a a hassle.
If you are scared they will look to plasticky they actually don't, we are super pleased with them.
---
Flamefield Savoy Prosecco/champagneglas – 2-pack
Who doesn't love some champagne, in these unbreakable glasses you can sip away without being worried about breaking or smashing any glasses. I'd even recommend this to anyone that just enjoy a good picnic.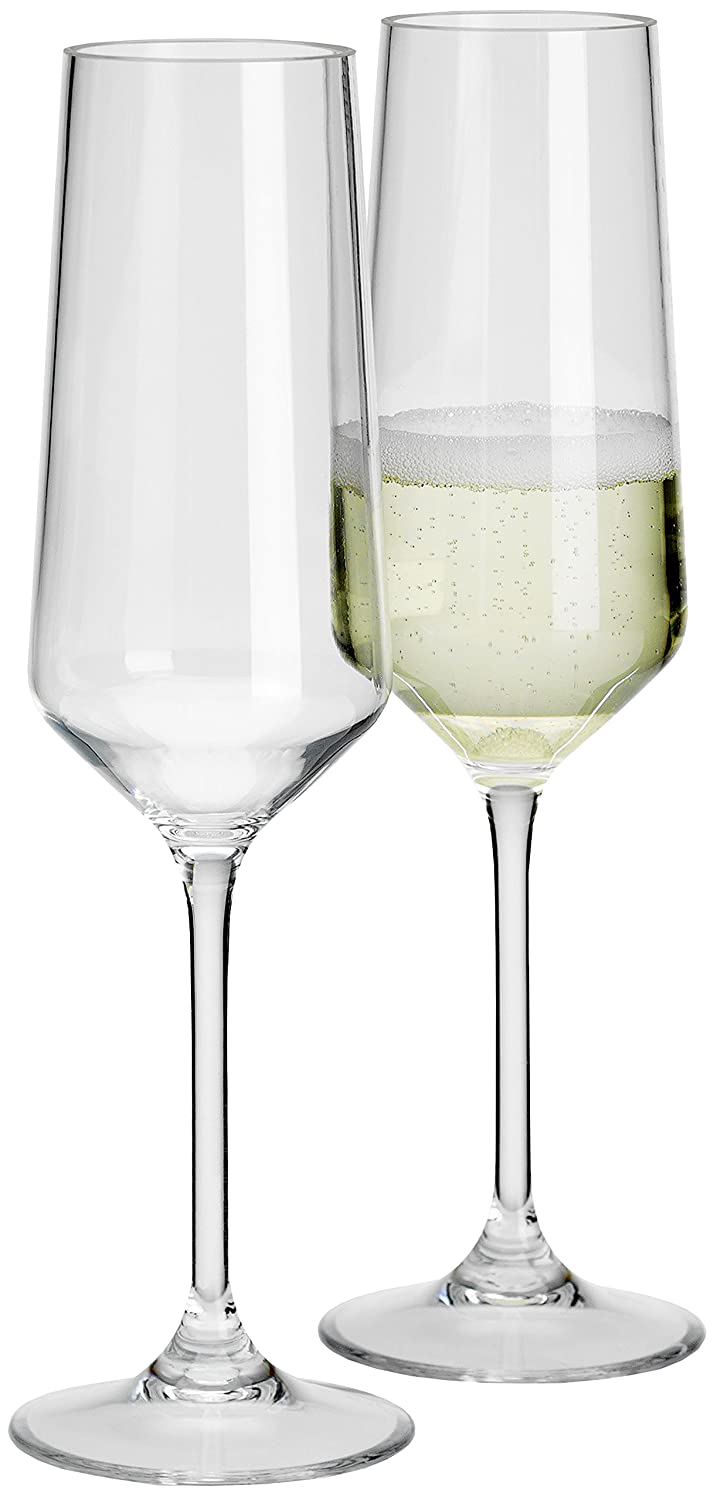 ---
MICHLEY Unbreakable Large Wine Glass
---
Melamine bowls
USeing melamine in your van or RV is a must. We really enjoy these black melamine bowls, they are a perfect size for youghurt in the morning, soup and pasta. Love a good allround bowl.
---
Plastic Containers 3 sizes
In our van we have built this little shelf where we can store our every day goods. It was important that it didn't look to plasticky but at the sam time was a good size and could store our food in an aesthetically pleasing way, yes for us this is important. A van/RV is such a small space and we really wanted our home to look homey and pretty all the time.
---
1,5 Liter plastic container
The perfect size for flour and sugar, we also have tea in ours since we are massive tea lovers.

---
1.1 Liter plastic container
Perfect for morning müsli or nuts, raisins etc.
---
150ml plastic jars with aluminum lids
These ones we have spics in but we also store sauces in the fridge when we make etc. Home made mayo or a good sallad dressing.
---
Flexible Flat chopping board
We bought these just because we needed something cheap while we looked for a good wood cutting board. Now we have both these flexible and a wood one and we seriously never use the wood one. These flexible ones are just so handy, easy to use, you can lift them up and bend them so you can easily get your food in the pan without dropping it on the floor.
They are super easy to store since they barely take up any space and so easy to wash since they bend.
---
Magnetic knife rack
This is a must have when living in a Van/RV. We have our knifes on this magnetic spice rack and they never fall down, easy to just pop the knifes up there. We love ours. We especially love that it's black.
---
So that was all of it, our kitchen wouldn't be the same thing without these gadgets.
We are so happy that you wanted to read our blog post about our kitchen gadgets that we love. If you have any questions about it drop us a message here, on our email or on Instagram.
If you enjoy our content and would like to support us in any way we would be happy if you wanted to check out our UK amazon shop. Also consider sharing this blog post with your friends and family and spread the word about this review and our blog.
You can also buy us a virtual coffee. It's a fun way to help us out on our journey.
We absolutely adore you for being here and supporting us.
Amazon Affiliated: We are a part of the amazon affiliated program. This means that we earn a small commission on each link if you decide to purchase with our link. For you it's no extra charge at all but for us it means the world. So if you enjoy and appreciate our work please use the link provided to purchase.